Understanding the investment opportunity
Talent Class is the platform for online Masters and professional cooking courses. Students learn from the best chefs in the world through educational programmes.
Talent Class mixes recorded courses and weekly live classes with a participatory methodology in which the student has to cook at home to compete with the rest of the students and to be able to qualify for the quarterly rankings. You learn by doing and experimenting to make it fun and promote continued use.
Two growing trends are present in our project. On the one hand, gastronomy, which has become the main hobby of a significant percentage of the population; and on the other hand, continuous, flexible, affordable learning, at any time and from anywhere.
As well as having a cultural connotation, gastronomy is a vehicle for identity and socialisation, representing the customs of each region and geography, in which everything changes, from the ingredients to the preparations.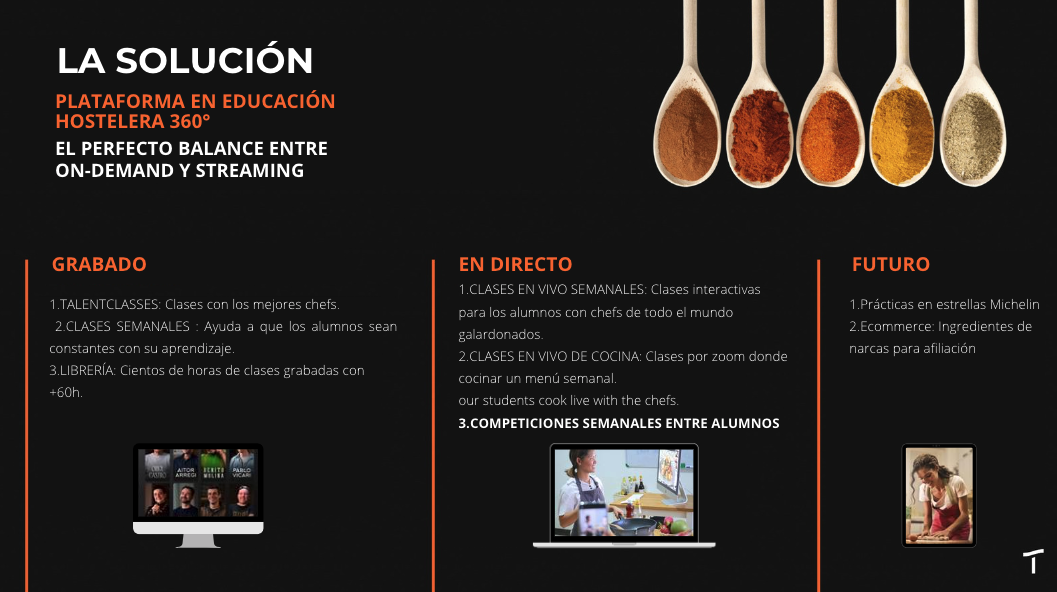 The pandemic increased the search for ingredients not normally used in private kitchens by a factor of 20. This interest continues after the first waves.
A high rating by our customers (more than 2 hours of use per week), is making it possible for them to recommend us to friends and family, helping us to grow in sales without the need to invest large amounts in advertising and marketing.
Our content does not expire because it is not dated (it is called "evergreen content") and we have already begun international expansion from Mexico.
In terms of population (120 million) and culinary identity (its typical dishes are unique and internationally recognised), Mexico is the ideal location to begin expansion into Spanish-speaking markets.
We have managed to create an effective methodology that can be applied to other learning beyond the kitchen. This methodology is one of the pillars of our success.
In December 2021 we launched the first online Master's degree in cooking. Our subscription students were looking for a guided and professional training in which they could be trained 100%. From the launch of the first call until today it has been a success, multiplying the return by up to 3 times that of the subscription. In the coming months we will be launching new professional Masters with an average ticket of €700.

Our business has been focused on B2C (private end consumer), but now we have managed to create programmes for B2B professionals (companies and institutions). This means a qualitative leap in sales figures as the product is based on enriched existing content. The hospitality sector manifests as one of its main problems, a serious lack of qualified professionals. We are in the right position to offer the appropriate and validated tools to fill this gap in the sector. This is the website of Máster Profesional.
In addition, we are in talks with more than twenty-five major food, energy, kitchenware, household goods, beverage and other brands that are interested in developing marketing actions with us.
The first was launched with the operator Yoigo in November 2021 and 1.5 million messages were sent to its customers promoting a month and a half trial of the platform with 5,000 free licences. To date we have closed agreements with companies such as Movistar, Interaceituna, Hostelería de España. Facyre, Newlux (largest company selling kitchen products).
Due to the success of the initiatives, Yoigo proposes us to periodically repeat the experience and promote our offers to their customers, which allows us to capture a large number of leads without investment. In addition, there are several commercial opportunities that we are currently exploiting.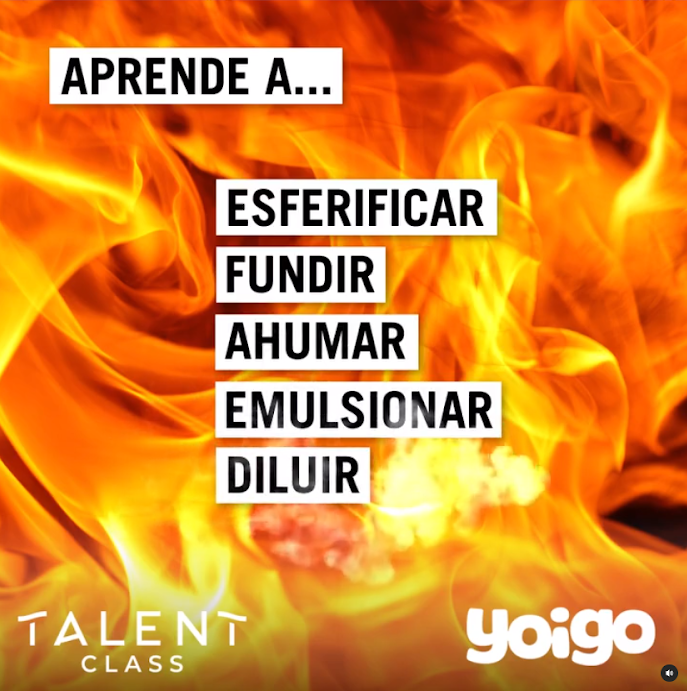 MARKET
e-learning
ed-tech
celebrities
(+2)
Fiscal benefits
Investing in Talent Class offers you fiscal benefits
Talent Class Team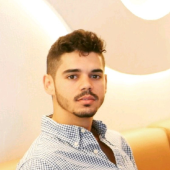 CO-CEO & Product
Ignacio Carrera
CO-CEO & Product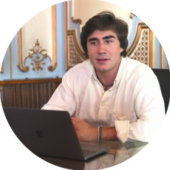 Co-CEO & Sales
Kiko de Arias
Co-CEO & Sales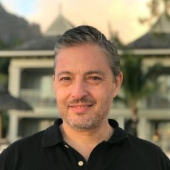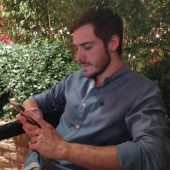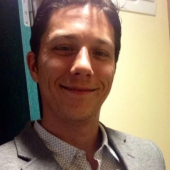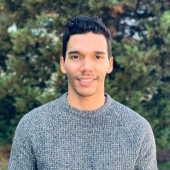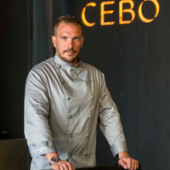 Aurelio Morales
Chef Estrella Michelin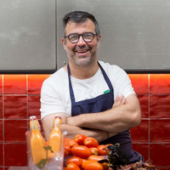 Bruno Oteiza
Chef profesional & Asesor
Current investors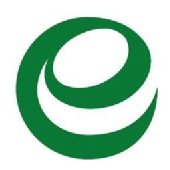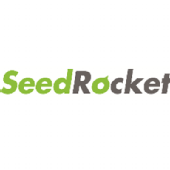 SeedRocket 4Founders Capital
INVESTOR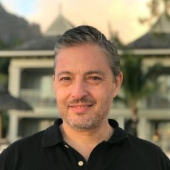 Sixto Arias
BUSINESSANGEL
Accelerators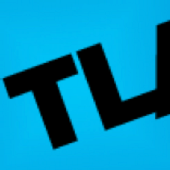 Finalist team in the SeedRocket accelerator. SeedRocket is one of the three most successful accelerators among the selected startups and its training programme stands out for its high level. Those initiatives that meet the requirements get financial support from 4Founders, the investment vehicle connected to SeedRocket..
Executive Chairman Sixto Arias, serial entrepreneur. Two exits as an entrepreneur: Movilisto in 2002 sold to the company Itouch listed on the London secondary market, and Mobext in 2012 sold to the French multinational Havas Media (started as a joint venture). He also has another exit as a business angel. So far he has invested in twelve startups and has participated in the acceleration of another ten from the accelerator Conector, of which he has been managing partner of the Madrid office.
Students in more than 5 countries and launch of a campaign in 5 Latam countries with the company BigBox which has more than two million customers in its database, mainly in Mexico and Argentina. Some pieces of Talent Class content are shown on the in-flight entertainment screens of 14 airlines including Iberia's mid-range flights.
The e-learning sector has been the fastest growing sector and is expected to grow x4 by 2025. Big players such as Udemy, Udacity, Master Class, EDX or Coursera are creating the habit of online and continuous learning in order to retrain and keep up with new trends. In parallel, major players such as Google and Meta (formerly Facebook) have launched their own learning programmes. Our growth is in line with projections.
Gastronomy - Each household spends 21 hours a week preparing food, 52% more than the previous year (Mastercard). Confinements have encouraged households to start trying out new recipes and experimenting in the laboratories that are, after all, the kitchens of every home.
After the quarantine caused by Covid, 70% of Spaniards surveyed claimed to have spent more time in the kitchen (Revista Española de Nutrición Humana y Dietética). In line with the previous paragraph, greater dedication leads to a demand for training. When a person increases their level in the kitchen, they create a tendency that is reinforced by the immediate pleasure of being able to enjoy their creations and share them with their loved ones. This prominence is reinforced by social recognition and enjoyment. It is not only those who savour the dishes who let the creator know about it. Food is one of the 5 most popular topics on social networks, along with sport, travel, celebrities and pets. Some chefs have over 15 million followers, such as Gordon Ramsay and Jamie Oliver. The trend of sharing images of what is being prepared or what is being eaten is on the rise. Restaurants, chefs and individuals are filling their profiles with photos of food dishes.
We have a learning methodology that has been validated and praised by our customers and has been proven successful with 4.5 out of 5 stars (trustpilot.com). We constantly receive suggestions and feedback from our users. The vast majority of them value and appreciate the quality of our platform and content.
The average usage is 2.5 hours per week on our platform. 20% of our users have logged on in the last 7 days, 68% in the last 30 days.
We have some of the best chefs in the world on our platform as teachers. The recruitment of chefs is executed thanks to a professional chef hunter, Bruno Oteiza who works for us from the first contacts to the closing of the production. The chefs earn an income depending on the results of their courses.
On-demand and streaming learning methodology. The adherence of our clients has to do with the live sessions, in addition to the recorded content and the content library.
We work with the best content creators and have producers from major broadcasters on our cap table. These producers have worked with major free-to-air TV channels and the most important pay channel platforms.
Who is the reference investor?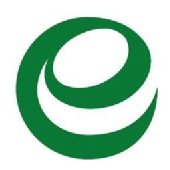 Encomenda
INVESTOR
Invest €30,000
About Encomenda
Somos la gestora de fondos creada por Carlos Blanco. Somos un equipo de emprendedores e inversores con experiencia en el sector. Nacemos para ayudar a los inversores profesionales y business angels a minimizar los riesgo de inversión en startups mediante la diversificación de la inversión y el acceso preferente a un deal flow de calidad y a operaciones que difícilmente salen al mercado. ¡Institucionalizamos el Smart Money! Actualmente, hay mucho dinero en el mercado, lo que provoca un aumento en la valocación de las startups y que muchos proyectos consigan financiación rápidamente omitiendo la participación de muchos inversores, que se quedan sin la posibilidad de formar parte de las mejores startups del país. En Encomenda eliminamos esta barrera y posibilitamos el acceso a las mejores inversiones, valoradas por los comités de inversión de cada vehículo formados por profesionales del mundo on y off line, que nos ofrecen una visión completa de los negocios para tomar las mejores decisiones.
Why do I invest in Talent Class?
"
Invierto en Talent Class porque está en un mercado en ascenso con un equipo ganador integrado por profesionales con mucha experiencia, ambición y talento.
He identificado tres vectores de crecimiento:
Por un lado, la diversificación de temas disponibles, desde la cocina y la alimentación como bases del bienestar, hasta temas de crecimiento y mejora personal. Ya se están moviendo en esta línea y han comenzado conversaciones con las primeras agencias de representación de conferenciantes. Incluso en el ámbito profesional, las empresas están demandando nuevas temáticas relacionadas con la hostelería.
Por otro lado, la expansión internacional. El mercado hispanohablante suma más de 500 millones de personas, incluyendo 70 millones en EEUU. En la mayoría de los países, la gastronomía forma parte de su cultura, principalmente en México, Perú y Argentina.
Y por último la gran demanda de contenido que va a suponer la creación de los escenarios virtuales del Metaverso. Las producciones son muy afines a la creación de contenido inmersivo ya que requiere instrumentos, electrodomésticos, ingredientes, elaboraciones y paneles auxiliares con las recetas y las cantidades necesarias."
It has also invested in...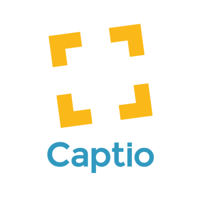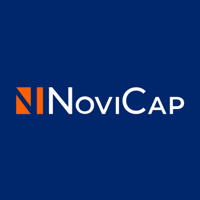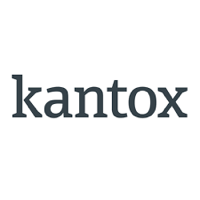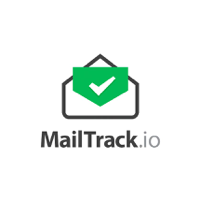 You need to be registered to view the content
This content is confidential and you must be registered with Startupxplore in order to access it.
Register me
Opportunity analysis Last update Jul 29, 2022 5:46:25 PM


You need to be registered to view the content
This content is confidential and you must be registered with Startupxplore in order to access it.
Register me
Investor questions
The regulations governing Startupxplore's activity require that no investor is in possession of more information than the rest. Therefore, this section will provide answers to any questions asked by an investor about the opportunity.
If you have any doubts or questions about the startup, the process or any other aspect please write to us at coinversion@startupxplore.com


You need to be registered to view the content
This content is confidential and you must be registered with Startupxplore in order to access it.
Register me
Documentation


You need to be registered to view the content
This content is confidential and you must be registered with Startupxplore in order to access it.
Register me