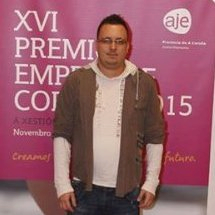 Senior Web Developer and Technology passionated
ABOUT CARLOS LOUREDA

      
Senior developer with more than 5 years of experience in which I managed to overcome all challenges I encountered.

My first contact with the world of programming was in a software consulting firm, understanding that software development encompasses many different technologies and skills required regardless of the languages used.

Once lived on the side of the 'employee', I spent three years as a freelance developer, where I have been involved in all kind of projects and challenges.

Once my  'Junior' stage ended,  I'm excited to share my passion for seriousness, commitment and professionalism with my coworkers at Domesting, where my skills in people and project  management allow me to grow as a chief technology officer.

What makes me an excellent professional?
My level of commitment, my responsibility, my sincerity and my respect for others, my desire to continue learning, achievement of objectives, deadlines, ability to complete involve myself in projects that have great human qualities behind

¿Technologies?
* Version control tools (Subversion and Git)
* Implementation of APIs: Paypal, Braintree, Stripe, Facebook, Google+, Twitter, Google Maps ...
* Planning Quality Assurance Testing

¿Major languages?

* Php: Frameworks: CodeIgniter, CakePHP, Yii, Symfony 2. Composer, PEAR, PHPUnit. 
* Java: J2EE: Spring, Hibernate, Maven, GWT ... Certificate JSE
* Python: Webscrapping (Selenium, Scrappy, Beautiful Soup, Requests ...). Frameworks: Django and Flask.
    
STARTUPS I FOUNDED/WORKED AT (1)
This profile looks great, do you want to share it with the world?
BEGINNER
ADVANCED
REAL PRO