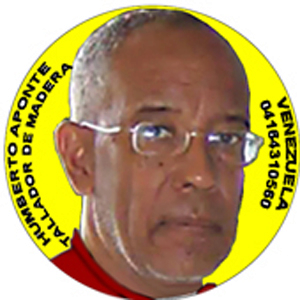 HUMBERTO TALLADOR DE MADERA WOOD CARVER MDF PLASTICO . MODELISTA. VENEZUELA PRECIOS MUY BARATOS PHONE 04164310560
ABOUT HUMBERTO ANTONIO APONTE URBINA TALLADOR DE MADERA.

      
HUMBERTO ANTONIO APONTE URBINA. TALLADOR DE MADERA  WOODCARVER MODELISTA MDF PLÁSTICOS YESO RESINAS. Edad 64 años. Experiencia 40 años. País Venezuela. Ciudad Magdaleno Guacamaya Maracay Aragua. Contacto tallaescultura@gmail.com --- humbertoaponte3000@gmail.com  Phone 04164310560 Venezuela.
PRECIOS MUY BARATOS.  Soy tallador y modelista de madera, y materiales similares como son  MDF, cartón, chapas, plásticos, yeso, resinas y todo material modelable. Actualmente diseño fabrico y mercadeo ornamentos tallados en MDF policromados. Figuras de todos los diseños posibles, animales , retratos, desnudos, logos empresas, militares, universidades. LOS PRECIOS PARA EUROPA SON MUY MUY MUY BARATOS INCREIBLES PRECIOS BARATOS DEBIDO A LOS CAMBIOS DE DOLAR QUE HAY EN VENEZUELA USTEDES DE EUROPA COMPRARÍAN AQUÍ MUY BARATO ENTONCES GANARAN MUCHO EN EUROPA. Gracias por leer este anuncio. envíeme algún mensaje para saber que lo leyó y le regalo algo tallado que le guste. Gracias.

CARVING PAINTIG VENEZUELA ENGLISH
Project design, development, production and sale of decorative art three-dimensional objects; sculpted and painted. A hand carved by sculptor. A hand painted with airbrush, brush, finger. Mixed Media.

Produce: Portraits. People. Animals: birds, fish, mammals. Natures. Scenery. Fantasy. Sculpture. Logos and business symbols, university, military. Nautical and marine art. Signs. Visual art representations of land, air and naval vehicles. Other.

Produce all the designs for all tastes and all countries, private organizations or government.

Produce one single unique piece. Do according to customer series, negotiation, other agreements.

Materials: Natural wood, MDF industrial wood, fabrics, plaster stucco. Piedra. Metals. Other materials.

Colours: colorless, oil, acrylic, earth, watercolor, goache, crayon, synthetic, plastic, other pictorial materials.

Finishing: natural, synthetic sealer plastic, rubber plant lacquer, wax, varnish, synthetic, plastic lacquer. Mixed Media. Other. (Optional: gold leaf-imitation, semiprecious stones, silver razor.)

Size: Standard 120x60x1,5 cm, (Other sizes according to customer order and can vary the price.).

The price of each standard is from $ 100 US for the month date 07/2015. Country Venezuela.

Free produce prototypes and models for VIP customers. (Certain conditions apply)

CONTACT:
Mr. Carve and Paint.
tallaescultura@gmail.com
carvingpaintingvenezuela@yahoo.com
  
ATTENTION: This site is still under construction. Please any suggestion is welcome. Thank You.
    
This profile looks great, do you want to share it with the world?
BEGINNER
ADVANCED
REAL PRO