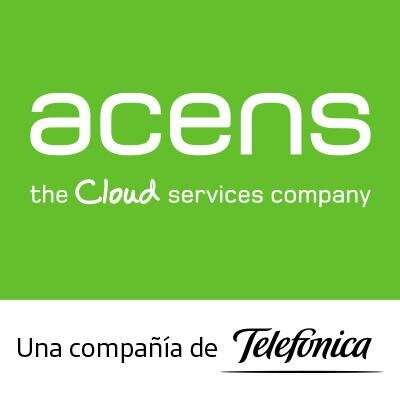 Ofrece servicios de "Hosting", "Housing" y Soluciones de Telecomunicaciones para el mercado empresarial
ABOUT ACENS

      
Acens, empresa del grupo Telefónica, ofrece servicios de "Hosting", "Housing" y Soluciones de Telecomunicaciones para el mercado empresarial, y es pionera en el desarrollo de las soluciones de Cloud Hosting más completas y competitivas del mercado.

Desarrolla su actividad desde 1997 y en la actualidad ofrece sus servicios en países como España, Brasil, Perú y México. Además, posee dos Data Centers en España con más de 6.000 metros cuadrados, siendo una empresa líder en su sector de actividad.

En la actualidad, la cartera de clientes supera los 45.000, con un amplio abanico de servicios contratados que comprenden desde el alojamiento de páginas web hasta soluciones de VPN (Red Privada Virtual) con "outsourcing" de servidores y aplicaciones y tránsitos de salida a Internet y soluciones de nube híbrida, públicas y privadas, para cubrir todas las necesidades tecnológicas y de negocio de las empresas.

acens gestiona 285.000 dominios y 1 millón de cuentas de correo de clientes. Aloja 106.000 webs en sus 6.500 servidores que ocupan 2 Petabytes de almacenamiento, y administra un caudal de salida a Internet superior a los 4 Gigabits a través de una red troncal multioperador con presencia en los puntos neutros (Espanix, Catnix…).

acens Cloud Hosting ofrece a pequeñas y a grandes empresas modelos de trabajo más flexibles, seguros y eficaces, tanto en entornos de clouds privados como en públicos y mixtos.

acens cuenta con 240 profesionales que aseguran el éxito de cualquier proyecto. Disponen de una dilatada experiencia y cuentan con una elevada capacidad en el diseño, en la puesta en marcha y en la explotación de soluciones de alojamiento y comunicaciones, englobando todos los servicios en un horario ininterrumpido de 24 horas, siete días a la semana.
    
Organization founded in Spain. ACQUIRED phase.
This profile looks great, do you want to share it with the world?
BEGINNER
ADVANCED
REAL PRO