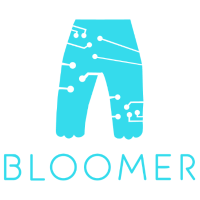 We are transforming how people understand their bodies via sensor technology
ABOUT BLOOMER TECH

      
Bloomer makes smart everyday clothing that reveals important information about the human body to make people healthier. This is accomplished by building water resistant and flexible circuits that are embedded into clothes to monitor health parameters. Our idea transforms how the human body system is understood by people, via sensor technology, thus enabling healthier and longer lives. Bloomer technology aims to change medication, fitness and wellbeing from the current generalist treatments to an individually focused one, in order to tackle diseases and optimize health. As B2B, Bloomer's products integrate as part of the manufacturing and supply chain process of clothing brands.

The team connected by personal stories which are our motivation to tackle the cardiovascular disease problems. We are inspired by Amelia Bloomer's legacy, she is a women's rights advocate from the 1800s who transformed the way we wear clothes, as  corsets from her time were really damaging  women's health. Thanks to her movement, women now use pants or any clothes which are comfortable and express our uniqueness. Demonstrating "clothing not only changes lives - it also changes history." 

We present to you: Bloomer Tech, in this technological  era, we advocate for more progress in clothes, they should not only be worn, but give us true power to optimize our health.

We aim to transform how people understand their bodies via sensor technology. This will move treatments, medication, fitness and wellbeing from the current generalist treatment process to one that is user specific and individually focused.

Sadly, cardiovascular disease is the number 1 killer of women and 64% of women who die suddenly of coronary heart disease have no previous symptoms. It is therefore imperative to have a tool that informs people in real time about their body and with machine learning prevent and improve the quality of life by really understanding what is going on in the body system.
    
This profile looks great, do you want to share it with the world?
BEGINNER
ADVANCED
REAL PRO