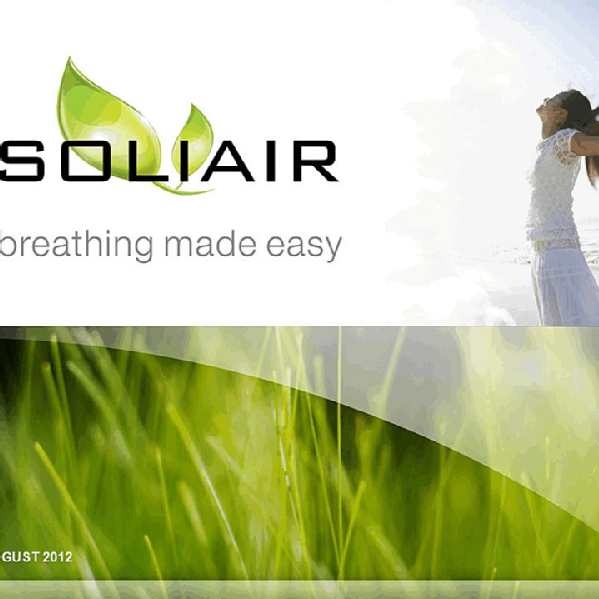 SOLIAIR™: A Natural Health Drug Discovery Company!
The SOLIAIR™ Company's Goal is to Become the Best B2B and B2C Retailer and Developer of Naturopathic & Homeopathic Nutritional Supplements!
ABOUT SOLIAIR™: A NATURAL HEALTH DRUG DISCOVERY COMPANY!

      
Dear Drug Discovery Investors & Entrepreneurs,  

I would like to introduce to you to my natural health drug discovery and development company. I believe my products has great potential and a huge market. I would like to explore the possibility of cooperation with you and your company. I am enclosing my presentation and would appreciate your response!  

SOLIAIR™ Company Overview:  

SOLIAIR™ is an alternative medicine company designed to become the best B2B (business-to-business) and B2C (business-to-consumer) in sales of naturopathic and homeopathic nutritional supplements. The SOLIAIR™ company will market and sell private label (manufactured by a company that places the retailer's name on the packaging) naturopathic homeopathic dietary supplements. The SOLIAIR™ is a privately held Israel based company.  

The SOLIAIR™ company mission is to provide the finest in alternative medicine and natural supplements products, using an efficient supply chain system to lower the consumer's cost. These products will include ginseng, ginkoba, and various antioxidants. The SOLIAIR™ Company intends to create an icon nutritional supplements brands through laser-focused marketing and will grow in sales and revenues. Our services will exceed the expectations of our customers.  
 
SOLIAIR™ Company Advantage:  

The Situation Today of Conventional Drug Therapy:  

1. Has limited efficacy in patients with any disease and can not significantly inhibit the deterioration of their body function and does not reduce disease exacerbations, hospitalization and mortality.  
2. Causes side effects.  
3. Is expensive.  

Patients taking the SOLIAIR™ nutritional supplements reported a decrease in seasonal infections of their diseases. Reducing the incidence of infections benefit tremendous potential. The SOLIAIR™ products are free of side effects and has no interaction with medication used for conventional treatments!  

The SOLIAIR™ company Naturopathic medicine promotes the diagnosis, treatment, and prevention of human disorders through the use of non-invasive, non-pharmaceutical products and practices. Each SOLIAIR™ natural product has been authorized and defined by the Israeli Ministry of Health and according to Pharmacists Regulation and has a patent pending!  

The SOLIAIR™ Team is Looking for a Person or a Company that:  

- 1. Handle the Certifications to Sell the Company's Products.  
- 2. Sell/Market our Products in the United States and Worldwide.  
- 3. Direct Sales and Distribution Services Required.  

-- Executive Summary: www.tiny.cc/Soliair-Executive-Summary  
-- Company Presentation: www.goo.gl/6faUeJ  


Best Regards,  
SOLIAIR™ Team
    
Organization founded in Israel. Since June/2012. STARTUP phase.
NEWS FROM SOLIAIR™: A NATURAL HEALTH DRUG DISCOVERY COMPANY! (2)
This profile looks great, do you want to share it with the world?
BEGINNER
ADVANCED
REAL PRO