How opening up to the world changed the Berlin startup ecosystem: an interview with Ciaran O'Leary
Over the past five years Berlin has established itself as one of the most entrepreneur-friendly cities in the world, with an admirable ability to attract talent from all over the world to create or join tech startups.
To know more about the city we've sat down with Ciaran O'Leary, a partner at Earlybird, a Berlin-based Venture Capital firm with €800 million under mangament and more than 100 companies in its portfolio.
For those who don't know you, who is Ciaran O'Leary and what's Earlybird VC?
I am a partner at a VC firm based in Berlin. I am Irish but grew up in Munich. I am very passionate about product and team psychologies and not so much about deal making and the financial aspect of venture investing. I am more of an open minded scientist than a financial engineer – I am approaching the whole thing with curiosity and glad I can work with people smarter than me every day. I blog and tweet about the whole thing. Earlybird is a pan European VC firm that has been around for over 15 years, invested in over 100 companies and has around €800 million euros under management. We used to be focused on Germany but are now really investing everywhere across Europe.
Earlybird
What's Earlybird's investment thesis and what kind of technology sectors is the firm interested in?
I think there are really three things that excite us:
Companies that have products that get better the more people use them – so market places, networks, communities, platforms, etc
Companies that can shape global vs regional markets
Companies that have the potential to be very large public companies one day
We end up investing around 50% enterprise and 50% consumer. Oh and most importantly, companies that have teams we are excited to work with – usually these will be slightly maniac and irrational and we like that.
If I'm not mistaken you've focused on Germany, UK and other big European countries for the most part. However, in 2013 Earlybird announced a new fund aimed at Turkey and other CEE countries. What investment opportunities have you found in those countries and why are they interesting?
There is plenty of evidence that you can build really big companies anywhere. We invested in Peak Games in Turkey and Socialbakers in Prague a few years ago and those went really well; so we looked at emerging markets more closely and then decided to start a fund with some people we knew and trusted. The new fund has already done more than a handful of investments and we are excited to be a part of these markets developing. It's early but the entrepreneurial DNA is very good.
The Berlin startup ecosystem
The German startup scene has changed dramatically over the past few years, especially in Berlin. What have been the key factors that have driven its evolution?
"The key to Berlin's success is the ability to attract and retain talented and driven people"Ciaran O'Leary
It is really just one thing: the ability to attract and retain talented and driven people. Berlin is not an engineered ecosystem. Everything happened not because of, but despite of, what the state or anyone else was doing. It is the only unpainted urban canvas in the English-speaking (yes, Berlin is essentially an English speaking city) world. People are coming in from all over the world to paint that canvas. It is the only place, besides the bay area and Tel Aviv, where entrepreneurship is center stage. It is used to be: German business students building German companies for the German market with German investors. Now it is folks from all over the world, building global companies and backed by some of the best investors from around the world. We syndicate more with US funds than European funds. The influx of high quality VC is helping a lot. There have been double digit billion of exits last 12 months, so you can see things are working. However it is all very young, so much homework left to do.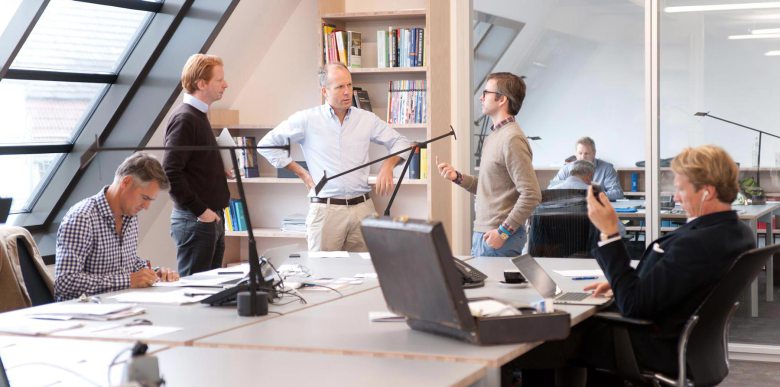 What's still missing for the ecosystem to fully mature and reach London or Tel Aviv's level?
Time. It is way younger than London and even much more so than Tel Aviv. If you look at the big exits coming out of London e.g. – those companies were founded way before the Berlin ecosystem existed. I crunched some numbers here. Berlin is however already attracting just as much venture capital as London so you can see the trajectory is good.
"Berlin is already attracting just as much venture capital as London"Ciaran O'Leary
Because it is young we are missing a few things: large exits that push the ecosystem in to perpetual motion, large native tech companies that are training grounds for talent, many high quality local VCs, etc…. I also would love a world class engineering school. However just for the record: the way we view Europe is that it is really 4-5 interconnected hubs in a huge and amazing European ecosystem. It does not take longer to get from London to Berlin than from San Francisco to San Jose on a Monday morning with traffic. We are not just routing for Berlin but are playing the wider European ecosystem. As you know we just invested in CartoDB in Spain and we want to do a lot more in Spain.
Europe hasn't seen as much investment activity as today since 2000. What are the main challenges for the VC industry going forward?
European VCs need to become better. More focused on the entrepreneur. More straight forward when cutting a deal. They need to deliver tangible value. The reason is that the best entrepreneurs can now raise from anywhere – and if you are not competitive if you are running in to a huge adverse selection problem. There are arguments for a bubble in the US, but not really in Europe as we are still undercapitalised.
Based on your experience, what advice would you give to entrepreneurs looking to raise capital for the first time? I guess three things:
Talk to entrepreneurs that already have and learn from them
Educate yourself through blogs etc
Find a personal angle to a partner at a VC firm or angel you want to raise from.
And most importantly: just because investors say no it does not mean you are not on to something. We get it wrong so many times.
And to investors that are planning on raising their first VC fund or making their first investment as business angels?
To appreciate that it is a really hard business actually to make money – don't kid yourself. The top 25% (or even less) make money and no one else. Focus on the crazy big bets, swing for the fences – playing it safe will kill you. Team is more important than business model. Have a thesis. Be very disciplined in the venture basics. Focus on your brand and reputation among entrepreneurs.
Is your startup looking for funding? Are you an investor looking for great startups?
---
Comments