The biggest challenge for startup founders and CEOs: hiring the right people
This is a guest post written by Marta Díaz Barrera, CEO & Founder of Talentoscopio and creator of the First Study on Talent in Spanish Startups. Marta is also a mentor in various startup programs.
When it comes to hiring a candidate for your startup, challenge is at the menu. Every CEO wants to get the best of it, and this is when things begin to be stressful: "How can I do it without spending too much money or too much time?" "Who can help me on this?" "Where can I find the perfect match?
We all know that startups manage very short deadlines and that most of them think they can hire the A+ player in a snapshot. But real life is different, because detecting the best talent for your project is a mix of experience, practice, analysis and strategy.
Over the past months we have met and interviewed many CEOs in Talentoscopio and launched the First Study on Talent in Spanish Startups. What we asked them was as simple as this: "what are the problems you face when you start looking for a new hire?". Surprisingly or not, 93% of them answered lack of engagement coming from candidates, while 88% of CEOs claimed for better skills among the professionals they interviewed.
Guess you must be astonished after reading these numbers. So was I, especially because this opens a whole new discussion based not only on profiles startups need but on essential subjects such as the engagement the new comer must have with the project. Showing little engagement from his side at the very beginning of the relationship scares us because we start thinking about what will happen after three to six months. Well, the truth is this candidate will leave the startup very shortly after joining it and the CEO will face a bigger problem than the one he originally had.
What's required to work at a startup?
Even though some media outlets keep on communicating promotional messages about what life is like in a startup (disruptive & cool,…), what they seem to omit is that working in a startup is not always easy. It´s all about Passion (with capital "P"), about believing that the project you are part of will change the way others see things because it will have an impact in people´s lifes. It´s about testing and about living the users journey and the customers experience. It´s about rethinking the whole concept. And this is the moment and the time to confess that not every profile matches every project, and that not all candidates meet what co-founders need and are looking for.
According to the EC, in 2015 there will be 864,000 job vacancies in the IT sectorMarta Díaz Barrera
Just to give another example, 81% of CEOs interviewed mentioned that candidates haven´t got enough previous experience working in a startup (logical enough), but 88% of them referred to the lack of abilities including technical skills. This second part is the one which stands out, because it links directly with the existing gap between education and startups expectations. European Commission alerts: on 2015 we will have about 864,000 job vacancies focused on IT. This is a serious issue to which business schools are starting to react, because once new methodologies are defined, validated and established, we will have to wait another four years until students graduate. What about CEOs starting to put into place some kind of speed IT training?
The truth is techies, marketers, business oriented profiles are all important, but the one thing that will have the most impact in the revenue, product development and lifecycle of the startup is the team.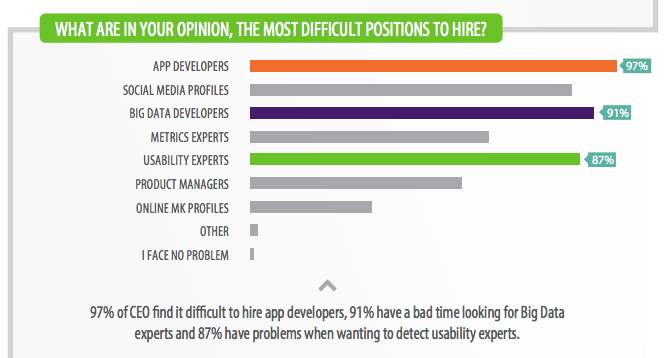 Let me finish by sharing this key learning with you: look for highly talented people, outstanding candidates that have sparkles in their eyes, because they are the ones that will help you through this journey, that will support you and that will make the world change their classical rose-colored glasses for multi-colored contact lenses.
Want to find great talent for your startup?
Check Startupxplore's job board!
Photo | Flazingo Photos
---
Comments