Where startups finding talent and talent searching startups meet: our Startup Jobs board
It was a logical step in our mission to connect all sides of the startup ecosystem: a section to find, search and promote top startup jobs.
Meet Jobs. Startupxplore Jobs
jobs.startupxplore.com is the meeting point for startups finding talent and talent searching startups. How did this happen? Partnering with a Madrid-based promising startup: Tyba, an online recruiting platform providing a powerful experience for our users.
How does it work if you're looking for a startup job?
You can search and filter job vacancies by categories such as sector, location, role…Just browse and apply for a job, once you log in you can set your own preferences.
I'm the CEO of a startup looking for a bright hire. How can I post a position?
Pretty easy: just click on "Post a Job". You'll have your own dashboard where you can search, filter, organize and follow candidates in a visual and actionable way with innovative profiles, which do not only show professional and academic career milestones, but also includes traits related to personality and suitability.
Why is jobs.startupxplore.com better than other job boards?
Think of Airbnb for tech startup jobs. More than basic or traditional job listings, on our jobs section anyone can see what working in your startup can feel like: like a mini-site of your own startup, anyone wanting to apply for a job can get to know more about the workspace's look and feel, the team members and the spirit of the company. All the listings are curated by the Tyba team and that guarantees us high quality content.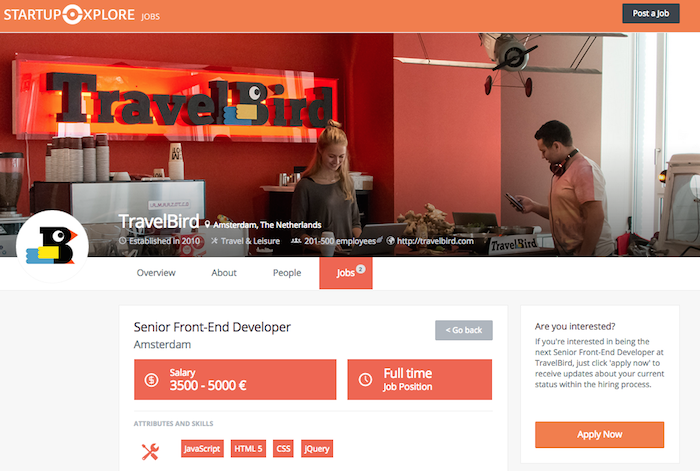 On the other hand, startups looking for applicants can find a much more relevant resume: an average applicant profile on jobs.startupxplore.com has 150 data points, compared with 50 on a typical résumé that you can find on other job listings.
When you post on jobs.startupxplore.com the post gets distributed to a whole network of tech startup related partners, getting a higher and more relevant reach, when compared to traditional job boards.
Give it a try and make the dreamwork
---
Comments