The Spanish startup ecosystem in Q4 2014: €77M raised (+315% YoY)
The Spanish startup ecosystem continues to mature, as investments and exits are increasing by the day as local startups mature and foreign investors come to Spain's shores to fund the next wave of great entrepreneurs.
Following the Scytl effect, a great quarter for the Spanish ecosystem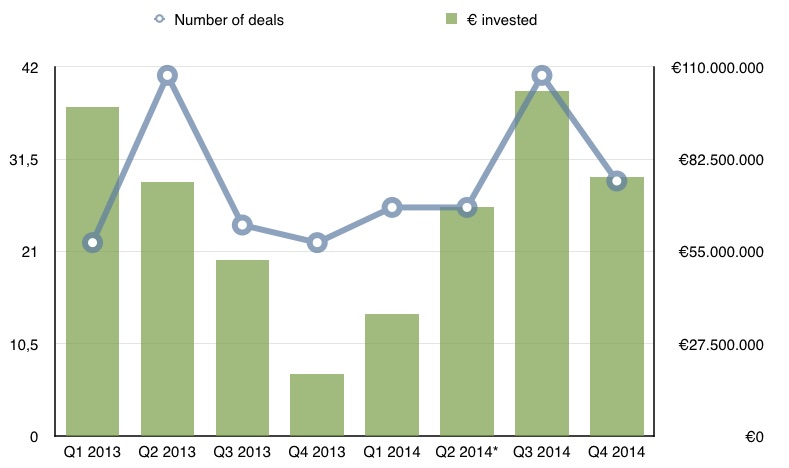 In the fourth quarter of 2014, Spanish startups raised €77 million from investors, a +315% increase compared to the same quarter a year ago. This brings the total for the year to €284 million, another significant increase compared to 2013.
Quarter-on-quarter growth was negative (-25%), mostly due to Scytl's massive €80 million round closed in the third quarter. As visible on the graph above, the number of deals was also down compared to Q3 (30 vs. 41).
In total, Spanish startups raised €179 million in the second half of 2014, demonstrating significant growth compared to the same period a year ago (+153%).
Although most investments in the fourth quarter were once again small and at the seed stage, it's worth noting that 10 of the 29 surpassed the €1 million mark.
Investments worth highlighting
While in the third quarter there were notable investments (both in terms of size and relevance) in companies like Scytl, CartoDB, Socialpoint or Jobandtalent, in Q4 there were also some significant deals involving local startups and, in some cases, foreign investment firms.
Online ticketing platform Ticketbis raised €5.2 million from Active Venture Partners.
Ecommerce for pets TiendAnimal raised €30 million from Miura Private Equity.
Redbooth closed a €9 million round from Altpoint Ventures and Avalon Ventures
Hardware manufacturer Bq grabbed €15 million from Diana Capital, its first round of funding in its history
Exit activity on the way up

What was very interesting about the last quarter of 2014 was the degree of exits in the Spanish startup landscape, with five notable exits:
Notable exits, a significant increase in investments and more participation than ever from foreign Venture Capital firms. A great year for Spain and there's more to come, as investments that were made a few years ago will probably start producing more exits and as more VC firms and successful entrepreneurs launch new investment funds.
Photo | Nemo
Want to be part of one of Europe's biggest startup communities?
---
Comments