The current state of the European startup investment market in 4 graphs
At Startupxplore we've provided detailed reports on the Spanish startup and investment market. As many of you might already know by now, investment activity in the country has increased significantly over the past few years, reaching levels not seen since earlier in the decade or before the financial crisis.
However, Spain still lags behind other European startup ecosystems that are more mature and more developed. To better analyze the current situation of the European investment market we've put together a list of 4 graphs that visually explain the importance of the UK, Germany or France within Europe.
Q3 2014 was the best quarter for European startups since 2001
According to a report from Dow Jones VentureSource, European venture-backed startups raised €2.3 billion in the third quarter of 2014 across 323 deals. While the 323 figure represents a slight (17%) decrease in the number of deals, total investment increased by 3%, accounting for the highest investment figure since 2001 (€2.7 billion).
Berlin-based Delivery Hero played a significant role in this surge, as it raised more than €250 million in early September. Although Dow Jones does not include it, it's also interesting to highlight Scytl's €80 million round -the highest for a Spanish company in 2014- that was closed between April and July.
In terms of the types of companies that attracted the majority of Venture Capital euros, it's worth noting that 'business and financial services' accounted for 24% of all deals and 40% of all investments. A sign of the importance of, among others, the fintech sector in Europe. 'Consumer goods' and 'Consumer services' followed, at 24% and 6% of all deals, respectively.
As the Wall Street Journal points out, funding for young startups fell 40% in Q3 compared to the same period in 2013. €713 million from €1.2 billion.
Venture Capital firms closed fewer funds in Q3 2014

Over the past few months we've witnessed the launch of various new Venture Capital firms and the creation of big and significant firms. Despite this apparent slight increase in activity, according to Dow Jones the number of Venture Capital fundraising activity declined in Q3 2014 compared to the previous quarter. That said, the level of activity did increase compared to the same quarter a year ago.
Google Ventures Europe and Mosaic Ventures contributed to this year-on-year increase. Both firms are based in London and announced $100 and $140 million funds, respectively.
European startup exits are on the rise
Ecosystems need exits, as they are key in providing capital to the market and creating new investors and promoting an entrepreneurial spirit. In Europe, exits are on the rise.
According to data from CB Insights, in the third quarter of 2014 there were 175 startup exits in the old continent, representing a slight increase compared to Q1 and Q2, when the number peaked at 152. Interestingly, few of these exits were from venture-backed companies. CB Insights notes that only 12% of the companies sold from April to September had received Venture Capital funding. Russian social network VKontakte was responsible for the biggest exit in Europe, as it was acquired by Mail.ru for more than €1 billion.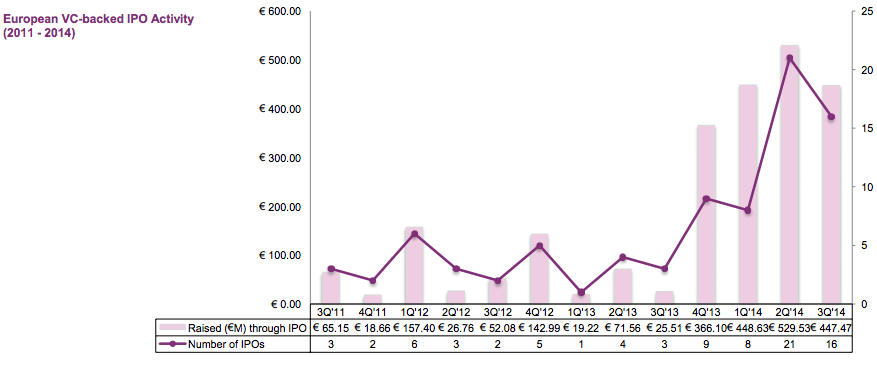 Within venture-backed startup exits, IPOs increased significantly compared to the same period a year ago. As visible on the graph above from Dow Jones, the IPO activity level in Europe has increased tremendously since 2013.
London still ranks as the biggest tech hub in Europe
There's no doubt that London (and the UK) is the biggest and most relevant tech hub in Europe. Not only do many startups and tech companies have their headquarters in the British Capital, but London's Venture Capital scene is also the most developed in Europe.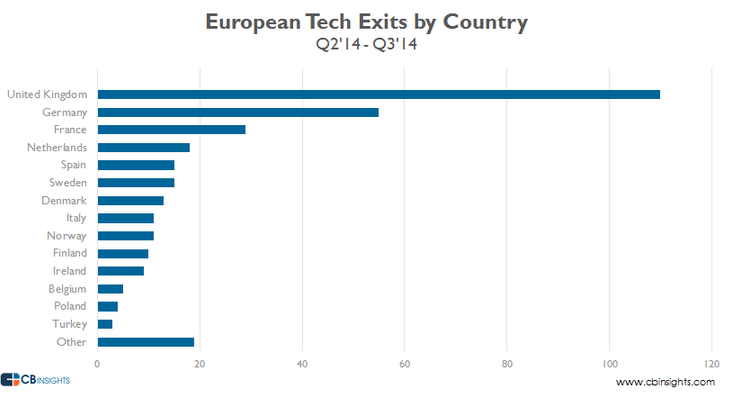 London startups raised more than $1 billion in funding in the first three quarters of 2014, a 30% increase compared to the previous year. The UK's dominance is also visible in the exit space, as the country accounted for 100 exits in Europe.
Want to keep track of what's going in Europe and follow the best startups and VCs? Welcome to Startupxplore!
Photo | Pixabay
---
Comments