Spanish startups raised €104M in first half of 2014 while number of exits doubled
The first half of 2014 is in the books. Spanish startups raised over €10 million in June, elevating the total for the first half of 2014 to €104 million. This represents a significant increase compared to the same period in 2013 and shows that Spanish VC activity is improving and healthier than it was two years ago.
Number of deals stayed the same, amount invested increased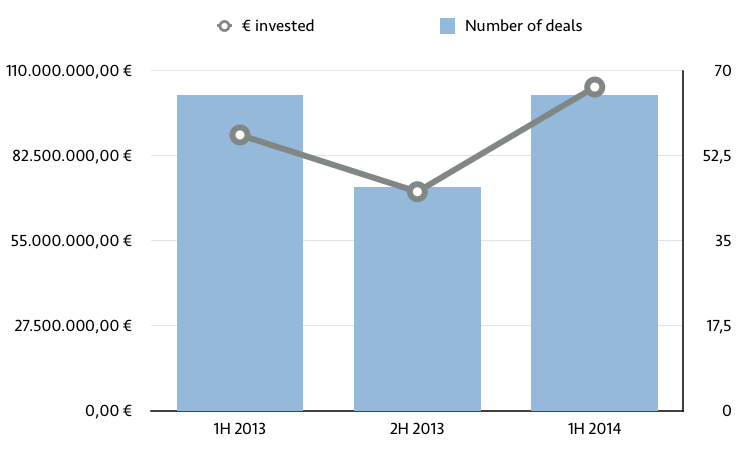 In the first six months of 2014 Spanish startups raised €104 million across 65 deals. This represents a +17% increase compared to the first half of 2013, when companies received over €89 million in venture financing in the exact same number of deals.
As a reference, in the second half of 2013 there were 46 investments, totaling €70 million. If the pace of investments continues, 2014 could be the best year for the Spanish startup ecosystem since 2011.
If we look at the data on a quarterly basis we also find positive signs. In Q2 Spanish startups raised €68 million in 26 deals, which represents a +87% surge compared to Q1 and a slight decrease (-9,9%) versus the same quarter a year ago.
Small changes in the number of series A rounds
There's plenty of seed capital in Spain and there are also plenty of companies at that stage. However, it's often said that Spain lacks medium-sized startups that can attract big series A or B rounds.
Of the 65 deals that were closed in the first half of 2014, 19 were worth over €1 million. 14 of those were between €1 and €5 million, while the 5 remaining surpassed the €5 million mark. As a reference, in the same period of 2013 there were 18 deals in the €1-to-€5-million range and 3 deals worth more than €5 million.
The main highlights of 2014 include: ByHours (€2,6M), Force Manager (€2,8M), peerTransfer (€4,5M), Promofarma (€3M), Fon (€10,3M), Kantox (€6,4M), Cabify (€5,7M), Scytl (€30M) or Packlink (€6,6M).
The most active investors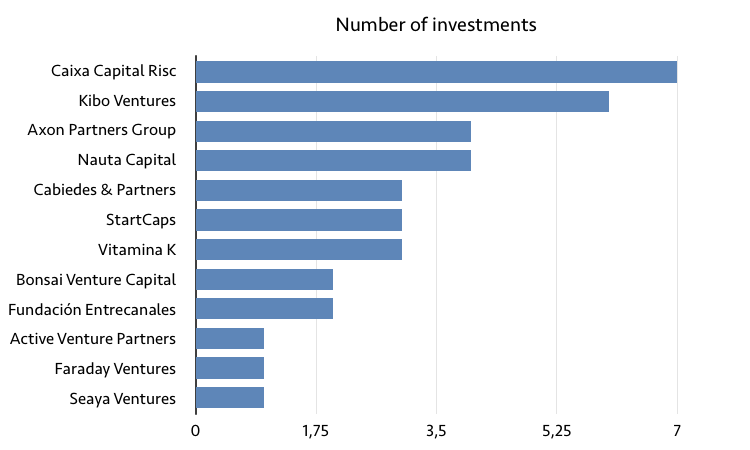 Caixa Capital Risc, Kibo Ventures (who manages part of Telefónica's Amérigo fund), Nauta Capital and Axon Partners Group have been the most active investors so far in 2014, with at least four investments each.
It's important to highlight that funds such as Nauta or Axon also tend to invest in foreign companies: Nauta participated in Brandwatch's $22M Series B and Axon invested in India-based iYogi.
Twice as many exits compared to 2013
There's no doubt that exits are needed for any technology ecosystem to mature and to date Spain has lacked big acquirers and big acquisitions. However, things are slightly changing over the past few years and quarters.
The first half of 2014 serves as an example. In the first six months of the current year we've counted 20 exits from Spanish startups, almost three times as many as in the same period of 2013, when there were just 9. Most of these acquisitions were small -and the real figures are not often made public by the parts involved-, but at least 4 or 5 might be big enough to ignite a new wave of business angels and entrepreneurs.
ElTenedor (LaFourchette) was acquired by TripAdvisor for around €80 to €100 million; classifieds website Milanuncios was bought by Schibsted for €100 million, although the deal is pending regulatory approval; Odigeo eDreams went public in April valuing the company at more than €1 billion (worth noting that value of its stock has decreased significantly in the past month, from 9.75 to 4.6 euros); and multinational Kantar Media bought The Data Republic (and its popular tool Tuitele) for an undisclosed amount.
The increase in exits, combined with the surge in venture capital activity, point to a productive year for Spain. However, let's not get ahead of ourselves: there's a lot of room for improvement and Spain is well behind other European ecosystems. Things are getting better, but that's the way it should be considering the country's starting point.
The data included in this blog post is publicly available. It's very possible more deals and acquisitions took place in Spain in the periods covered and these were not disclosed. For the benefit of the ecosystem, we encourage startups and investors to disclose them in the future.
---
Comments