Beyond Madrid and Barcelona: the other Spanish startup hubs
These days most countries have what could be called one or two entrepreneurial hubs. London (or Cambridge and Oxford) in the UK, Paris in France, Stockholm in Sweden or Barcelona and Madrid in the case of Spain. These big cities tend to attract most of the talent and it's where most startups decide to establish themselves.
However, this doesn't imply that building a startup outside of these cities is an impossible task. Or that if you do so you'll be destined to fail. As we will highlight in this article using the example of Spain, talent is global and good companies can be found in small and medium-sized cities.
Spain is more than Barcelona or Madrid
According to Webcapital Riesgo in 2013 €291 million were invested in Spanish startups by domestic and international VCs, public institutions and business angels and accelerators. As we've mentioned in the past, this represents a small decreased compared to 2012 and a significant drop compared to 2011.
Companies based in Catalonia and Madrid, two of the most important hubs in the country, attracted the majority of investments. Catalonia-based startups received €59.2 million in 2013 and those in Madrid €49.2 million, 35 and 29 per cent of the total invested in Spain, respectively.
This is not surprising, given that most Spanish startups are located in each Comunidad Autónoma. According to data gathered by Spain Startup Map -owned by Startupxplore- there are more than 1.700 startups in Spain at the moment: 468 are based in Catalonia and 443 in Madrid, combining for more than 50% of the Spanish ecosystem. The same applies to incubators, accelerators and VC firms; although it's important to note that Madrid is home to the biggest and most important venture capital firms in the country.
This is one way of looking at this data, but there are other ways of doing it. If around 50 or 60 per cent of investments and startups concentrate in Madrid and Catalonia… it means that almost half of all deals and startups are located in other regions and cities. But where?
Andalucía, Valencia and Euskadi are the other Spanish startup hubs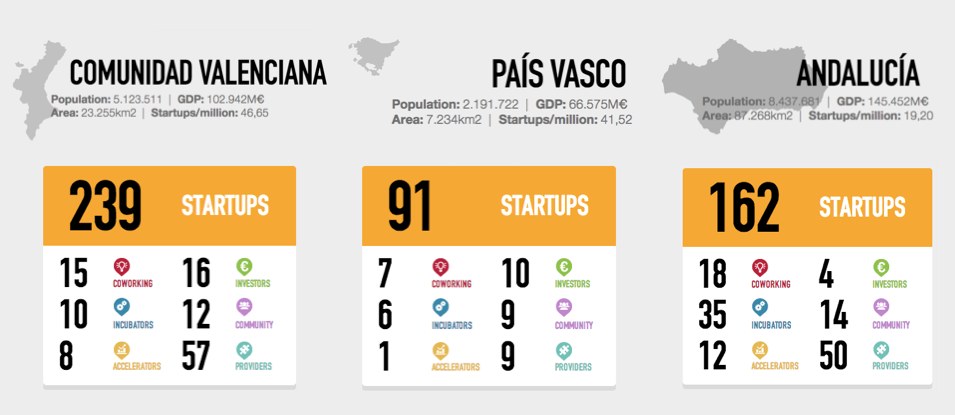 Data from Startup Spain Map shows that these three regions are probably the three other hubs in Spain. In Andalucía there are around 162 startups -mostly in Málaga and Seville-, in Comunidad Valenciana 239 and in Euskadi 91.
These figures correlate with Webcapital Riesgo's overview of VC activity in Spain in 2013, as they found that Andalucía, Valencia and Euskadi attracted €3.4, €9.6 and €5.2 million in VC money, respectively. Following are the most interesting companies, accelerators and investors in cities like Valencia, Bilbao and Málaga.
Valencia
Saeed Amidi, founder of the accelerator Plug and Play Tech Center, once claimed that when he decided to open a subsidiary of his organization in Spain he looked at all possibilities, but mainly at Barcelona, Madrid and Valencia. Surprisingly to many, he chose the latter despite the fact that, as we have seen, startup activity in Spain tends to concentrate in Barcelona an Madrid. Plug and Play Spain was born in 2012 and the accelerator -full disclosure, Startupxplore is currently participating in its fourth program- has become one of the most relevant in the country. And so have others such as Lanzadera or Business Booster, one of the first accelerators in Spain.
Some interesting companies in the city are:
App-building startup Mobincube, which to date has raised almost €1 million and was part of Spain's biggest equity crowdfunding campaign so far.
peerTransfer: a payments company focused on the student sector which has raised more than €21 million so far. Although the company has its headquarters in Boston, its development center is still located in Valencia, where the company was originally started.
Gamification has become a significant trend when it comes to mobile apps and Valencia-based Hooptap wants to take advantage of it, allowing brands to increase their engagement levels. The company was founded in 2011 and has raised more than $700.000 from institutional investors and Business Booster.
Bilbao
Euskadi has a long tradition of entrepreneurship, going back to the days of the Spanish industrialization. That spirit is still alive, and the changes experienced by Bilbao in the past few years have transformed the city and made it a good destination for startups and entrepreneurs.
The most relevant companies in the city are Ludei, Sherpa , Ticketbis, Educaedu or Perpetuall. Some of these enterprises have offices in the US, but have kept their development centers in the city, signaling the engineering talent that can be found in Bilbao.
Málaga
With more than a million people living in the city and its surroundings, Malaga is one of the most vibrant cities in the south of Spain.
Its technology sector is dominated by a combination of public and private institutions (Parque Tecnológico Andaluz (PTA), where the Asociación de Parques Científicos y Tecnológicos de España is located) as well as startups that are trying to build big companies from the city: Hot.es, Resultados-fútbol, Freepik, Flaticon or Fishfishme.
These are just a few examples of companies and technology ecosystems that go beyond Barcelona or Madrid. What other relevant startups do you know that might be worth listing?
---
Comments