These are the 5 hottest startup sectors where investors are putting their euros
The European startup scene has evolved significantly over the past years. While five years ago not many talked about London, Berlin or the Nordics as tech hubs, nowadays these regions -as well as Tel Aviv- are considered as real centres of innovation that compete in the same league as New York and, even in some cases, Silicon Valley.
While it's easy to say that things have changed since 2009, it's not as easy to quantify those changes and, most importantly, to highlight the most attractive startup sectors for business angels and Venture Capital firms. Something we've done with the help of Startupxplore-ambassador Andoni Serrano Pavón, Tableau Public and using Crunchbase's data.
The top five startup sectors in Europe
Using Crunchbase's data we've looked at the five European startup sectors that have received more investment from business angels, Venture Capital funds and private equity firms from 1999 to 2004.
Fintech
The disruption of financial services has been one of the most significant mega trends in the technology world. Startups are not only changing how banks operate, but they are also attacking specific financial areas that have been left untouched for decades. As we've previously explained, London has become a global fintech startup hub, led by companies such as Funding Circle or TransferWise.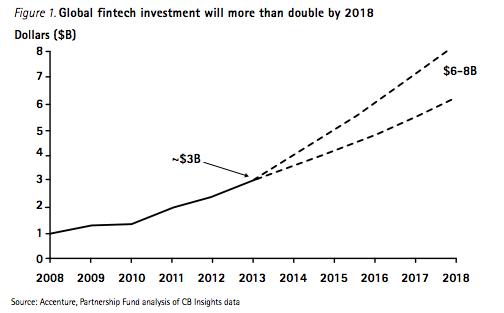 Over the past five years more than $2.3 billion has been raised by fintech startups in Europe across 306 deals. According to Accenture, in 2013 the global fintech market rose to $3 billion and will continue increasing in the near future, reaching a size of $6 to $8 billion by 2018.
Cleantech
The press tends to obsessively focus on the consumer sector, where software, fintech or mobile startups are the talk of the town. However, investors have lately increased their interest in cleantech startups, with more than $2.1 billion invested in such startups since 1999 in 215 deals.
Cleantech refers to a wide variety of business categories, such as agriculture and bioproducts, renewable energies, smart grid, energy storage, waste management and many others. Areas in which companies such as Mainstream Renewable Power, Sonnedix or 3power Group excel.
And what's even more important, cleantech's growth is not about to stop. According to the report 'Global clean tech innovation index 2014', investment in such companies will hit $400 to $500 billion by 2020.
Software
Marc Andreessen, co-founder of Netscape, famously said that 'Software is eating the world', and this has accelerated over the past few years, as many traditional industries have seen how software has revolutionized them and changed its dynamics.
According to Crunchbase, 638 investments in European software startups were closed from 1999 to 2004, totaling $2 billion raised by these companies.
These numbers will probably only increase in coming years, as SaaS and cloud software companies continue expanding and improving their services. A study from IDC predicts that the cloud software market will grow to $76 billion in 2017 (from $28 billion in 2012), which represents a big opportunity for investors.
Hardware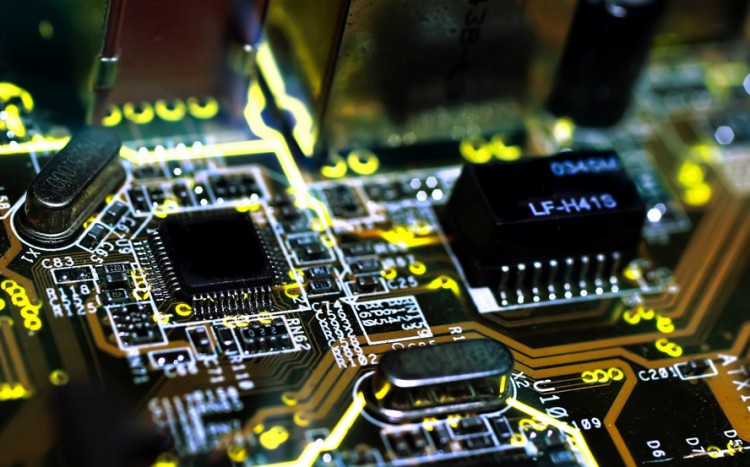 For many years the focus of investors has been on software instead of hardware, given the costs associated to building a software company versus one that relies on components, manufacturing and physical outputs.
However, that doesn't mean that investors have forgotten about hardware. Not even close. Based on Crunchbase data we can gather that between 2009 and 2014 there were 417 investments into hardware startups, combining for a bit over $2 billion in funding.
It's worth noting the impact that crowdfunding sites such as Kickstarter or Indiegogo have had in the hardware sector lately, acting as a funding and marketing mechanism to show that hardware startups are also viable and scalable.
Mobile
The fifth largest startup sector in Europe belongs to the small computers we carry every day in our pockets. The smartphone has truly changed how business and users behave and has given birth to numerous startups that are using it to offer new services or disrupt traditional industries.
European mobile startups have attracted more than $1.9 billion in funding over the past five years across 488 deals, becoming the second most active sector -in terms of number of investments- behind software companies.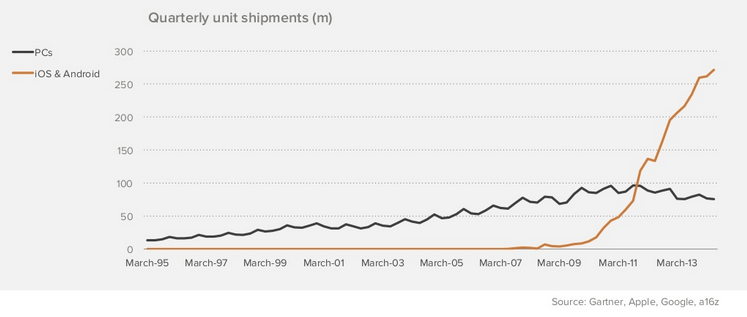 Interestingly, while smartphone penetration is really high in the top five EU markets, there's still room for growth in Eastern Europe and also globally, which means more opportunities for European investors and entrepreneurs.
Want to find and invest in the best startups from these sectors?
Photo | Edukwest & Benedict Evans
---
Comments