Spain, startups and success is a good combination. Here are 4 examples
Let's be honest for a moment: Spain is associated with good weather, nice beaches, good food and many other positive attributes, but not with a strong and healthy technology ecosystem.
Well, we're here to change that perception. Madrid or Barcelona are not London, Stockholm or Berlin when it comes to startups, but in the past few years we have witnessed the creation of immense value by startups and mature technology companies. As we have previously explained, it seems like the investment landscape in Spain is improving at a healthy rate –€104 million were invested in Spanish startups in the first half of 2014– and, as we will show in the following post, a number of Spanish companies have already become huge successes for both its founders and investors. Which companies? Continue reading to find out.
BuyVIP

Back in 2006 Gustavo García Brusilovsky, Juan Pane Arregui and José Luis Vallejo created one of Spain's biggest successes. BuyVIP was born in Madrid at a time when Internet penetration in Spain remained low and when real estate and construction was the engine that moved the Spanish economy.
BuyVIP, similarly to other companies such as Vente-privee or the also Spanish Privalia, is an online shopping club that offers big discounts for members on fashion and lifestyle brands. Gustavo García wanted to create his own business around an online private community in the B2C market and, with the help of his co-founders and the early backing of Spanish angel fund Digital Assets Deployment (DAD, led by Rodolfo Carpintier), BuyVIP took off soon.
In 2006 the company had gross revenues of 500.000 euros; figure that increased to €5 million just a year later and to €70 million in 2009, while employing more than 200 people in its Madrid headquarters.
Amazon paid €70 million for BuyVIP in 2010
This growth was made possible with the support of a wide variety of venture capital funds and private equity firms that saw in BuyVIP a good investment opportunity. In its lifetime the company raised over €30 million from VC firms such as Grupo Intercom, Active Venture Partners, Bertelsmann Digital Media Investments or Kennet Capital Partners. It's important to highlight that, back then, Spanish companies did not attract the attention of international investors, thus the significance of BuyVIP's rounds of financing and international expansion.
The success of the company was spotted by Seattle-based and eCommerce-giant Amazon as an opportunity to increase their offerings in the clothing and fashion industry. In October 2010, when BuyVIP was projecting €140 million euros for the fiscal year, Amazon announced that it had bought the Spanish company for €70 million, becoming one of the biggest exits in the history of Spain.
BuyVIP continues to operate in three markets -Spain, Germany and Italy- and in 2012 had net revenues of €64 million. However, the company is still losing money. It's good that Amazon doesn't care much about the profitability of some of its investments.
Privalia

Also in 2006 but 621 kilometers away from Madrid and in the heart of Barcelona, another online sales club was being born. Privalia is the child of Lucas Carne and Jose Manuel Villanueva, its two co-founders.
It's common to measure the success of internet companies based on their exits, on the liquidity they can provide to its investors, founders and early employees via mergers and acquisitions. However, startups that go on to become real and long-lasting businesses are also important for technology ecosystems.
Privalia hasn't had an exit yet and remains a private company; one of the most successful internet Spanish companies of all time. To date the company has raised more than $250 million -including the backing of significant venture capital firms such as Index Ventures, General Atlantic, Highland Capital Partners or Insight Venture Partners– and its revenues have increased significantly over the past few years.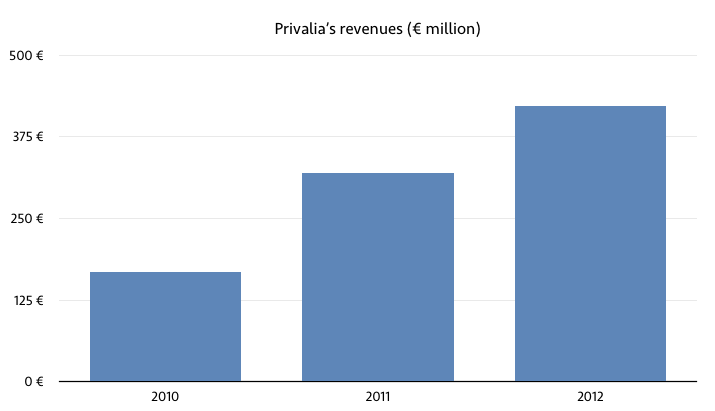 The company had sales of €168 million in 2010, €320 in 2011 and €422 in 2012. Figures for 2013 are not yet available, but given Privalia's growth, it's very possible they have crossed the €0.5 billion mark for the first time in its history.
Two similar companies -Privalia and BuyVIP- with two different outcomes (exit vs. private), but two examples of Spanish eCommerce companies that have created a lot of value within Spain's startup ecosystem.
Grupo Intercom

Grupo Intercom's (GI) tentacles are all over the place. The telecoms group founded in 1995 has become a constant presence in the Spanish technology ecosystem, and especially in the Barcelona area. The company started as an Intercom Online, an ISP that was later sold for €13 million. However, the group is best known for the creation of multiple companies and its investment activity, serving both as a company launcher and also as an investment firm.
The first company created by GI was the news portal Noticias.com, back in 1995. Since then, the group has launched more than 50 projects and backed over 25 startups, with a special focus on the online advertising and classifieds market. GI's motto is pretty clear: they find opportunities in the market to then create fitting companies themselves or to invest in others that are attacking such markets.
Besides its exit activity, which we will come to in a moment, the group's business model also includes high-growth companies that have become real businesses. Group Intercom's sales in 2010 were €58,3 million -with a profit of €16,2 million- and they increased by 34% in 2011, to €78,2 million -profit of €24,7 million-. Figures for the 2012 fiscal year are not available for the group's global business; however, it was recently published that GI's revenues in Spain for 2012 reached €26 million with a €9 million profit, a significant increase compared to previous periods.
Create, grow and… sell
Grupo Intercom's has had 12 exits since its foundation in 1995. Some of these exits have had a tremendous impact in the Spanish ecosystem, due to their size and liquidity provided to investors and entrepreneurs.
– Infojobs, Spain's biggest job search portal, created by Nacho González, was acquired by German-group Schibsted for €185 million. Schibsted first invested in the company in 2009, acquiring the remaining part of the company in July 2014.
– Softonic is also one of GI's highlights. Founded by Tomás Diago in 1997, it has become on of the fastest growing Spanish internet companies while providing millions of users with an easy way to find and download software for PCs and smartphones.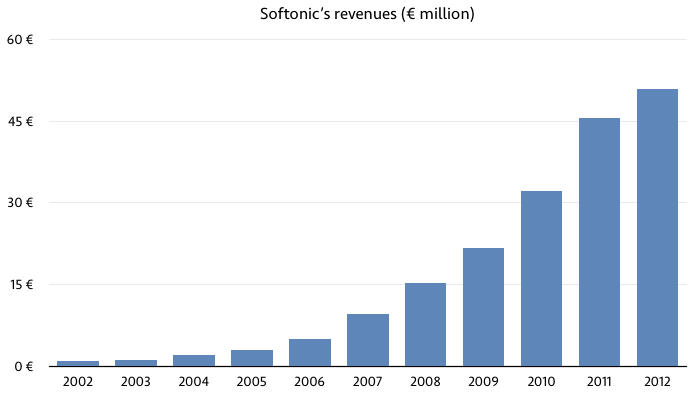 Softonic had revenues of €51 million in 2012, more than doubling 2009 sales (€21 million) while being profitable. Despite its early success the company remains ambitious and points to a NASDAQ IPO as its next step, probably in 2014 or 2015.
– These are probably GI's biggest exits but there have been many more. Interesting to highlight those involving Neurona and Niumba given the reputation and size of its acquirers, Xing and TripAdvisor, respectively. The size of these exits was never made public, although sources claim that Niumba was sold for €15 to €16 million.
Odigeo eDreams

Last but not least, Odigeo eDreams. The company co-founded and led by Javier Pérez-Tenessa is one of Spain's few unicorns -a term used to describe startups with a valuation of $1 billion- and one of the leading global online travel businesses with sales of €4.5 billion in 2012 and more than 14 million clients.
The company, which englobes brands such as eDreams, GoVoyages, Opodo or Travellink, was started in Barcelona in 1999 by Pérez-Tenessa and James Otis Hare. In 2006 TA Associates bought the 100% of the company from a group of firms formed by 3i, Apax, Atlas and Banco Santander. The company exchanged hands once again in 2010, as the private equity firm paid 250 million euros for eDreams. One year later, eDreams and GoVoyages merged to form Odigeo.
Odigeo eDreams IPO'ed in the Spanish stock market in mid 2014, valuing the company at €1.5 billion. Since then the company has been through some up and downs, with the price of its stock dropping by 30% and losses piling up.
Some experts consider this a transition period until the company fully matures. In first 9 months of 2013 Odigeo eDreams had net sales of €311 million, a significant growth compared to 2012 when the company had net revenues of €350 million.
All of the above are examples of successful Spanish technology companies that many are not aware of, especially outside of Spain. Considering the current circumstances of the market and Spain's situation, one can only expect to see more positive stories in the near future.
Are you a startup looking to grow and raise funding? An investor looking for good opportunities?
---
Comments